Prince William County man cited for bringing loaded gun to DCA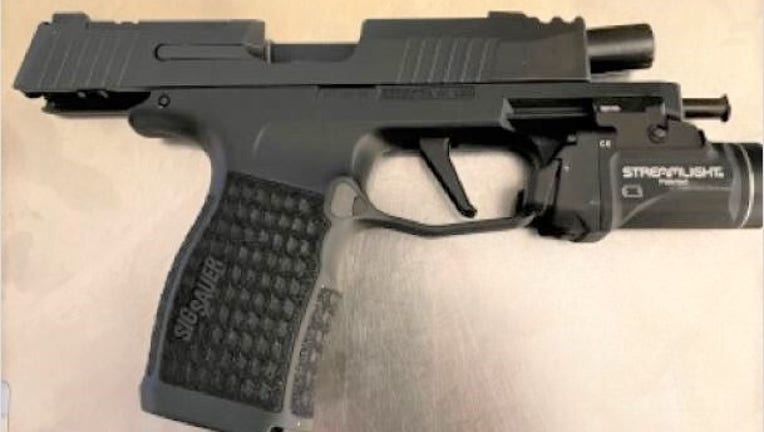 article
WASHINGTON (FOX 5 DC) - A Prince William County man has been cited for bringing a loaded handgun to DCA on Wednesday morning.
The weapon was caught as the man entered a security checkpoint. The 9mm gun was loaded with 12 bullets.
TSA officials notified the Metropolitan Washington Airports Authority police who confiscated the gun and cited the man, a resident of Gainesville, on a weapons charge.
READ MORE: Cattle prod discovery at Dulles Airport makes TSA's list of top 10 unusual finds in 2022
"It is only the fourth day of 2023 and already our officers have prevented two individuals from bringing loaded guns through the security checkpoint and onto their flights" said John Busch, TSA's Federal Security Director for the airport. "Let's hope that the frequency level of people bringing guns to our checkpoints does not continue this new year. Individuals who own firearms should familiarize themselves with regulations regarding where their weapons can and cannot be carried. If you own a firearm, it is your responsibility to know where it is, and that it cannot go through an airport security checkpoint. In addition to the citation by airport police, this individual now faces a stiff financial civil penalty—a penalty for carrying a weapon that was recently increased to a maximum of $15,000."
Passengers are permitted to travel with firearms only in checked baggage if they are properly packaged and declared at their airline ticket counter. Firearms must be unloaded, packed in a hard-sided locked case and packed separately from ammunition. Then the locked case should be taken to the airline check-in counter to be declared. 
READ MORE: Dog accidentally sent through airport x-ray machine, TSA says
Bringing a gun to an airport checkpoint carries a federal civil penalty because TSA reserves the right to issue a civil penalty to travelers who have guns and gun parts with them at a checkpoint. Civil penalties for bringing a gun into a checkpoint can stretch into thousands of dollars, depending on mitigating circumstances.