Student who brought gun to Anne Arundel County middle school won't be charged
A 12-year-old student who brought a gun to school in Anne Arundel County on Thursday will not face charges because of his age. 
The MacArthur Middle School principal sent a letter to parents, explaining a student had a handgun and ammunition in a fanny pack nearly all day before another student reported it. 
"I was really worried because my friends could have gotten hurt. It was just crazy someone brought a gun to school," said Carter Stith, a 7th-grade student at MacArthur. 
No one was injured, and the school said there was no evidence the student made any threats to anyone. A fellow student notified their teacher of the gun and the teacher immediately brought the student to the office. A school resource officer confiscated the firearm. 
READ MORE: 6-year-old shoots teacher at Newport News elementary school: police
According to the school, the gun did not have bullets in the chamber, but there was a magazine in it and additional ammunition was found as well.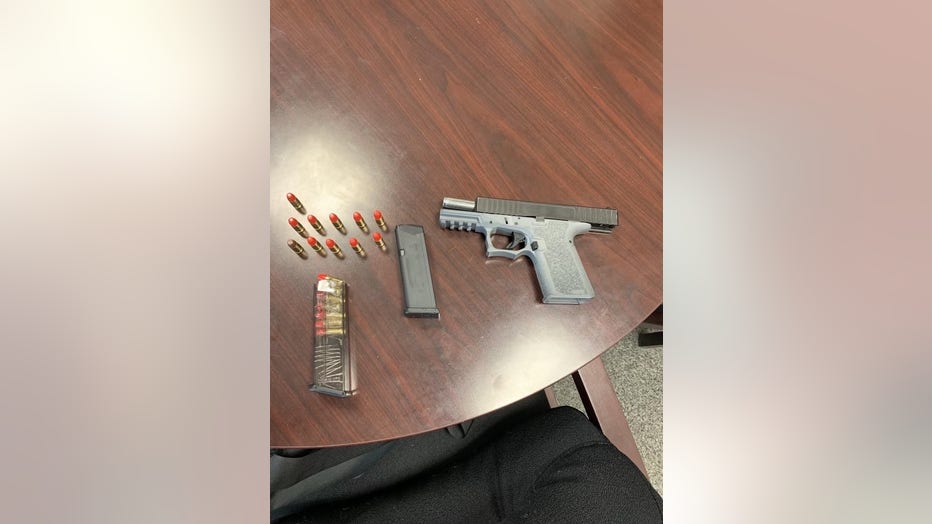 Photo Credit: Anne Arundel County Police Department
Anne Arundel County Police investigated and said they will not charge the 12-year-old with any crimes. Under a Maryland law that went into effect in June, children younger than 13 cannot be charged with crimes except the most violent. 
Carter's mom, Wesley Holloway says she wishes lawmakers would take a second look.
"The kid was only 12, so I feel like it sends the message to other 12-year-olds that we can possibly bring a weapon to school, and nothing is going to happen," she said. 
In the letter to parents, Principal Eugene Whiting states the school would take action against the student according to the school's code of conduct. The code states a student could be expelled for having a firearm. 
Anne Arundel County police sent a list to FOX 5 showing the many suspects under 13 who do not have charges pending because of their age. The offenses include assault, theft, vandalism, intimidation, and more.