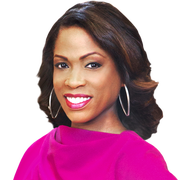 I've known since third grade that I wanted to be a broadcast journalist. I'm blessed to be living out my dream right here in the nation's capital.
People often ask me what I like most about working here. My answer: "It's the incredible people I meet and the incredible stories they allow us to share."
One of the biggest stories I had to share came on my second day on the job at FOX 5: the September 11th terrorist attacks. It's a day, like many Washingtonians, that I'll never forget. I still marvel at the resilience and sense of community that Washingtonians shared in the days, weeks and months that followed. To this day, it makes me proud to be a part of this community.
I grew up in the Midwest and earned a Bachelor of Science degree in Telecommunications from Ball State University.
I spent my first year or so after college anchoring the news for a country radio station! Yep... I learned to line dance, too!
My career path eventually led me to anchor and report at TV stations in Fort Wayne, Indiana and Pittsburgh, Pennsylvania.
Some of my proudest journalistic moments include earning an Edward R. Murrow Award for an investigative series on asbestos at The National Institutes of Health and earning an Emmy for Outstanding News Anchor in Washington, D.C.
When I'm not reporting the news, I enjoy working with charitable organizations that promote the well-being of women, children and families. I'm an active member of Alpha Kappa Alpha Sorority, Incorporated.
I'm also an abstract artist. In my spare time... you'll find me painting, reading, interior decorating and spending time with my family.
I love jelly belly sours, sushi and really spicy food (but not necessarily in that order). I'm honored that viewers welcome me into their homes every weekday night! My goal is to keep sharing the stories that matter most to the Washington, D.C. community.
The latest from Shawn Yancy