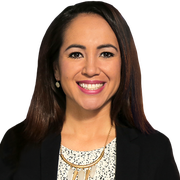 Sometimes life comes full circle! I did a college internship at FOX 5, and it was when I realized I wanted to pursue a career in journalism.
I went from that internship to graduate school in Los Angeles, to Yakima, Washington, to Colorado Springs, to Denver, and now, I'm back in DC, working with some of the same people from my intern days!
I returned to FOX 5 as a freelance reporter in April 2016 and was thrilled to transition to a staff position in early 2017.
FOX 5 has a fabulous team, both in front of the camera and behind the scenes. I look forward to coming to work!
I grew up in south Jersey, and my family is still there. I went to college at The George Washington University and earned a master's degree in broadcast journalism at the University of Southern California.
The stories I've focused on in my career are the ones that help people, bring positive change, or expose wrongdoing. I was the Trouble Shooter reporter at my station in Yakima and part of the investigative team at my station in Colorado Springs.
I was honored with an Associated Press award for investigative reporting.
I would say my main hobbies in life are running and eating. They complement each other nicely! I've completed two marathons and a triathlon.
From my six years in Colorado, I became a big fan of snowboarding, yoga, hiking and craft beer. I would love to hear your news tips and story ideas and hope we can connect on social media!
The latest from Lindsay Watts