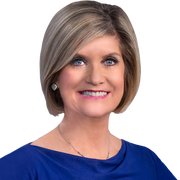 Sue Palka
Evening Meteorologist
If I act like I'm on cloud 9, it's not just because there's weather there. I consider it a privilege to live, work and forecast in the nation's capital.
As a kid growing up in Erie, Pa., my parents often brought us to visit my aunt, uncle and cousins in the D.C. area. We loved taking in the history of the region, and when they told us that schools often closed for as little as 2" of snow, we got quite a kick out of it coming from a snow belt city that averaged over 100" a season.
Not in my wildest dreams would I have expected that someday I would get to forecast the same school-closing 2" for you at 5, 6, 9, 10 & 11 pm!
I began my career at FOX 5 in 1985 after a short stop at WTVR in Richmond. Within a few months of my arrival, my husband Joe and I welcomed our first daughter, Elizabeth. Little sister Nora followed in 1989 and the joy continues as my granddaughter Anastasia arrived in 2017 to steal my heart!
I've covered hurricanes on the ground and from the air inside the famed Hurricane Hunter's aircraft. I've chased tornadoes and witnessed the total eclipse of the sun in Curacao. Now I can add earthquakes, Derechos and the polar vortex to the list!
There have been countless live shots including riding in a hot air balloon, paddle-boating in the Tidal Basin, the Presidential Lighting of the National Christmas Tree, and for a few years when my girls were younger, Halloween at my house.
The best part is always getting to meet our viewers face to face. Along the way, I've collected six Emmy Awards for weather forecasting.
Now that I've spent more than three decades at FOX 5, people tell me that they grew up watching me. That's the greatest reward of all and I'm beyond grateful.
When I'm not at FOX 5, I love taking in the area's vibrant theatre scene, going to Nats games, traveling, biking, hiking and enjoying a meal at one of the many amazing restaurants in this region.
The latest from Sue Palka
A mostly sunny Friday with some clouds and a passing shower possible. Highs in the 70s with a nice weekend ahead.
A mostly sunny Thursday with mild temperatures near 70 degrees.
Patchy morning clouds Wednesday with afternoon sunshine and highs in the 60s.
A sunny and cool Tuesday with a passing afternoon shower possible. Highs in the 60s.
We take a step back into what feels like early spring Thursday minus the storm and shower threat!
Morning showers - and maybe a few gusty thunderstorms - will move through earlier than usual Wednesday ahead of a cool front. FOX 5's Sue Palka says the commute may need a few extra minutes as the rain moves across the region. We can't rule out a few showers this afternoon but the bulk of the wet weather looks to fall before noon today.
Get ready for a much warmer Tuesday and hopefully a quieter day as Monday saw a single severe storm produce tornado warnings across several northern counties! FOX 5's Sue Palka says temperatures today look to climb into the middle and upper-80s with plenty of sunshine!
We wrap up the work week and this month of April with a very windy day!
Wednesday was the warmest day so far this year! FOX 5's Sue Palka says we tied the record high temperature yesterday with Dulles hitting 88 degrees.