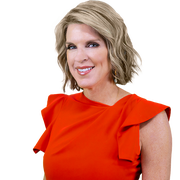 "Where do you get all your energy?" I know you were about to ask, so I thought I would save you the trouble! My standard answer is "strong coffee" (God Bless any and all Starbucks baristas).
But that's really only half the truth. I am innately a work hard, live large, glass is half full kind of girl. When people tell me I have the best job in the world, I don't disagree.
I am one of the co-hosts of our Good Day DC @ 10am show. It airs weekday mornings from 10-11am and is a show that is all about the pulse of the people.
We talk about everything from what's trending to the latest celebrity dish. And we don't hold back! Opinions welcome. Including you – tweet us using #GoodDayDC and there's a pretty good chance we'll respond!
I also have the privilege of working on the station's "Pay It Forward" campaign. It's my chance to share stories of people in our area who are doing great things not because they want to be noticed, but just because they want to make the world a better place. I can't tell you how rewarding this is to me.
My path to news wasn't conventional. You might want to sit down before I tell you, first, that I graduated from Duke University (go ahead hate on me, us Blue Devils are used to it) and two, that I have a degree in civil and environmental engineering.
One of my favorite papers I wrote in college was titled "All Blondes Aren't Dizzy."
So why am I learning celebrity make-up tips and celebrating National Tortilla Chip Day on live on TV instead of designing dams, bridges or water treatment plants? Engineering was my back up plan. News was my dream. And lucky for me, it came true.
The journey has included stops in Steubenville, Ohio and Lexington, Kentucky before settling here in the nation's capital.
To say it's been an adventure is an understatement. I was one of the first crews at the Pentagon on 911, I also pulled 9 G's (yes, I blacked out) when I flew with the Air Force Thunderbirds.
Those are some incredible memories that news has afforded me. But what I treasure the most, are the everyday people and places that I get to experience that a desk job simply wouldn't allow. I'm lucky to have been honored with nine regional Emmys – five of which were for "Best Live Reporting." I also have a regional Edward R. Murrow award to my name.
But there is nothing I am more proud of than my husband and son. Family is paramount to me. They are why I work and why I love life so much.
I also love a nice glass of red wine, Skyline chili (Cincinnati is my hometown), a good book, the start of vacation, knitting (it's how I bring my blood pressure down), and when people come up and say "hi" – so please if you see me out, don't hesitate!
The latest from Holly Morris