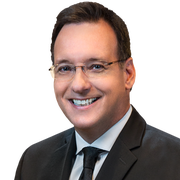 Gary McGrady
Meteorologist
I grew up in Houston, Texas. I was the kid that loved to watch the weather on the news. The TV weather guys were my heroes. I was lucky enough over the years to get to know many of them.
Some even went from heroes to mentors. From Houston, I took off for west Texas to go to school at Texas Tech. Before graduation I was lucky enough to start working for a local TV station as their "Stormchaser."
Seeing on numerous occasions the raw power and just how dangerous thunderstorms can be I began to realize how important timely weather information is. I have earned the Certified Broadcast Meteorologist (CBM) seal from the American Meteorological Society. It seems like just yesterday, but I have been forecasting and presenting the weather on the East Coast since the late 90s.
Since coming to D.C. and FOX 5 in 2004, it's been a wild weather ride. Snowmaggedon 2010, Carmageddon 2011, the Derecho in 2012 and Superstorm Sandy all come to mind as unforgettable events. As a meteorologist, I want to be where the weather is.
So far, D.C. has not been a disappointment. Here's the answer to the question I get asked most often: Yes, Sue Palka really is that nice! My wife and I have three kids. We spend most weekends on the baseball and lacrosse field. When it's warm enough and I am not here I love to play golf. The Nats are my team. See ya on TV!
The latest from Gary McGrady
Maryland schools will be closed for at least a few more weeks with distance learning persisting through April.
It's a Monday soaker today so keep the umbrella handy!
Overnight rain has largely pushed east Friday morning and any lingering showers will quickly exit after 7 a.m. as gusty breezes from the west will dry up the clouds.
Monday will be an amazing start to the workweek with Mother Nature treating us to some unseasonably warm weather! But it doesn't stop there!
We finish up the work and school week with clouds, showers and maybe even some late evening snow showers.
Clouds and scattered showers Tuesday as we look ahead toward what could be a messy winter weather weekend.
Suburbs north and west of Montgomery and Fairfax counties will be affected the most. 
A 7-month-old may not live to see his first birthday because of a disease he was born with that impacts his liver.