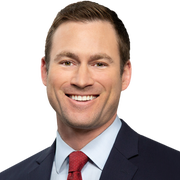 When I enrolled as a student at George Washington University, the District became the first home I had the privilege of choosing and I'm thrilled to be able to call the DMV home once again.
There is an incredible vibrancy to this region fueling its rapid growth and I can't wait to find my own ways to contribute. I join FOX 5 from NBC News where I was a correspondent covering major national stories.
I was among the first national reporters in San Bernardino following the terror attack and have sadly covered many more mass shootings since, including Orlando and Las Vegas. I covered the water crisis in Flint, controversial police shootings and countless hurricanes, blizzards, and tornados.
There were a few fun stories too, like a dog and cat running for president in Kentucky. Yes, they were actually on the ballot and, yes, I moderated a mock debate with their owners. Traveling the country introduced me to so many people from diverse backgrounds and circumstances.
Now, as I trade airplanes and hotels for a permanent home in the District, I bring with me an expanded perspective and appreciation. Before joining NBC News, I anchored newscasts in Minneapolis, Las Vegas, and Boise, Idaho. If you see me out and about, say hello!
The latest from Blake McCoy
Maryland is one of the states leading the way during the global coronavirus outbreak.