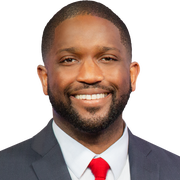 My High School superlative was, "Most Talkative." Who would have thought I'd actually be able to parlay that into a career I love? Not me. I grew up in South Plainfield, New Jersey -- the heart of America!
Since the 4th grade, I walked around with a tune in my head and a saxophone in my hand. By the age of 23, I played in every jazz and R&B club in the Tri-State area and needed a change.
Through music, I learned the art of storytelling. After listening to some inspirational people, I applied that skill to journalism—a concentration I learned at William Paterson University and eventually Quinnipiac University for my master's degree.
From there, I went on to report in Joplin, Missouri and Hartford, Connecticut covering everything from devastating floodwaters in Southwest Missouri to a Simsbury, Connecticut Catholic deacon who dedicated his life to social change after living through the death of Emmett Till—his family friend.
I've won some awards here and got nominated for a few more over there but the most important thing for me is the ability to tell stories that highlight the highs and lows of the human spirit.
It's been a pleasure to call the DMV home! If you feel like you have a story that needs to be told, feel free to hit me up on Facebook, Twitter or Instagram. Let's talk!
The latest from Ike Ejiochi
A strip club's defiant opening in Charles County has been called to a halt.
It started with two tragic incidents on two separate days.
The Purple Line will span just over 16 miles from Bethesda to New Carrollton.
Maryland Delegates Kathy Szeliga and Trent Kittleman feel Maryland residents just don't know enough about our government. It's why they co-sponsored House Bill 834.
Eight men who say they've been sexually assaulted or abused by scout leaders are filing a massive lawsuit against the Boy Scouts of America.
Sibley Memorial Hospital in Northwest D.C. welcomed its first newborn of 2020 nearly one hour after midnight on New Year's Day.
Maryland State Police have identified a Rockville man who was struck and killed in crash on I-270 Northbound Friday morning, north of the Shady Grove exit in Montgomery County.
It's been 381 days since Rosa Gutierrez Lopez was ordered to go back to her native county of El Salvador. It's also 381 days since she's decided to live inside a sanctuary church.
Montgomery County police have released the identities of a man and a woman who were found dead after what police called a domestic-related homicide in Damascus on Christmas Day.