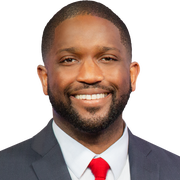 My High School superlative was, "Most Talkative." Who would have thought I'd actually be able to parlay that into a career I love? Not me. I grew up in South Plainfield, New Jersey -- the heart of America!
Since the 4th grade, I walked around with a tune in my head and a saxophone in my hand. By the age of 23, I played in every jazz and R&B club in the Tri-State area and needed a change.
Through music, I learned the art of storytelling. After listening to some inspirational people, I applied that skill to journalism—a concentration I learned at William Paterson University and eventually Quinnipiac University for my master's degree.
From there, I went on to report in Joplin, Missouri and Hartford, Connecticut covering everything from devastating floodwaters in Southwest Missouri to a Simsbury, Connecticut Catholic deacon who dedicated his life to social change after living through the death of Emmett Till—his family friend.
I've won some awards here and got nominated for a few more over there but the most important thing for me is the ability to tell stories that highlight the highs and lows of the human spirit.
It's been a pleasure to call the DMV home! If you feel like you have a story that needs to be told, feel free to hit me up on Facebook, Twitter or Instagram. Let's talk!
The latest from Ike Ejiochi
The recycling center in Montgomery County is massive—but it doesn't have space for all items.
Starting next year, Montgomery County Public Schools will start on August 31 instead of after Labor Day. Schools will officially close for summer break on June 16.
Yixian Ma could face up to 142 years for operating what police are saying is a sex trafficking ring inside the Gables Apartment building in Rockville, Md.
A suspect who brandished a double-bladed knife during an incident at a 7-Eleven location in Germantown is in custody after police tackled him.
X4B was a gentleman's club in Prince George's County. It shut down several months ago and remained closed.
Members of the Alexandria community are split on new road configurations around the city.
An off-duty D.C. police officer shot a man and a teenage boy Friday in Southeast. 
A new beer is on the market in the DMV – and it's taking aim at Redskins owner Dan Snyder.