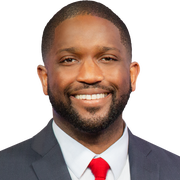 My High School superlative was, "Most Talkative." Who would have thought I'd actually be able to parlay that into a career I love? Not me. I grew up in South Plainfield, New Jersey -- the heart of America!
Since the 4th grade, I walked around with a tune in my head and a saxophone in my hand. By the age of 23, I played in every jazz and R&B club in the Tri-State area and needed a change.
Through music, I learned the art of storytelling. After listening to some inspirational people, I applied that skill to journalism—a concentration I learned at William Paterson University and eventually Quinnipiac University for my master's degree.
From there, I went on to report in Joplin, Missouri and Hartford, Connecticut covering everything from devastating floodwaters in Southwest Missouri to a Simsbury, Connecticut Catholic deacon who dedicated his life to social change after living through the death of Emmett Till—his family friend.
I've won some awards here and got nominated for a few more over there but the most important thing for me is the ability to tell stories that highlight the highs and lows of the human spirit.
It's been a pleasure to call the DMV home! If you feel like you have a story that needs to be told, feel free to hit me up on Facebook, Twitter or Instagram. Let's talk!
The latest from Ike Ejiochi
The Washington Football Team will allow fans in the stadium for the first time this season at an early November game against the New York Giants.
One of the two largest educators' unions in Fairfax County says schools should remain closed for the remainder of the academic year.
In September, the CDC issued a directive telling jurisdictions to prepare for having a COVID-19 vaccine in place by early November – and both the District and Virginia are already getting ready.
What if you had a way to see if an employee of a particular restaurant was involved in a racist incident?
A convenience store clerk was shot and killed in an apparent overnight robbery in Charles County, authorities say.
There's a new concern surrounding voting in the DMV – and that's safety at the polls.
It's a special day for Chef Jordan of Jordan's Bistro in Temple Hills.
From traffic cameras, to ring cameras, to cell phones – cameras are becoming a routine part of American life.