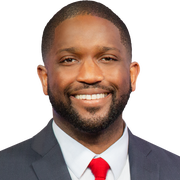 My High School superlative was, "Most Talkative." Who would have thought I'd actually be able to parlay that into a career I love? Not me. I grew up in South Plainfield, New Jersey -- the heart of America!
Since the 4th grade, I walked around with a tune in my head and a saxophone in my hand. By the age of 23, I played in every jazz and R&B club in the Tri-State area and needed a change.
Through music, I learned the art of storytelling. After listening to some inspirational people, I applied that skill to journalism—a concentration I learned at William Paterson University and eventually Quinnipiac University for my master's degree.
From there, I went on to report in Joplin, Missouri and Hartford, Connecticut covering everything from devastating floodwaters in Southwest Missouri to a Simsbury, Connecticut Catholic deacon who dedicated his life to social change after living through the death of Emmett Till—his family friend.
I've won some awards here and got nominated for a few more over there but the most important thing for me is the ability to tell stories that highlight the highs and lows of the human spirit.
It's been a pleasure to call the DMV home! If you feel like you have a story that needs to be told, feel free to hit me up on Facebook, Twitter or Instagram. Let's talk!
The latest from Ike Ejiochi