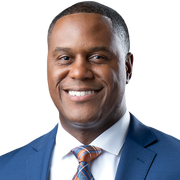 Rob Desir is an anchor for FOX 5 DC in the 4 p.m., 6 p.m., 6:30 p.m. and 11 p.m.
Rob most recently served as anchor and reporter for WTVR CBS6 in Richmond, Virginia. Before that, Rob served as a freelance host on STL-TV in St. Louis, Missouri.
He possesses an extensive background in sports working in a variety of on-air capacities such as correspondent for MLB Network, sports anchor and reporter for KTVI (St. Louis, Missouri), as well as weekend sports anchor at WXIN in Indianapolis, Indiana.
Rob began his career as a weekday morning sports anchor/reporter at WALA in Mobile, Alabama where he produced, wrote, edited and scheduled guests.
He is originally from Spring Valley, New York but calls Miramar, Florida home. Rob also holds a B.S. in Communications in Broadcast Journalism from the University of Miami in Coral Gables, Florida.