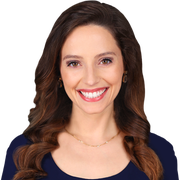 Adrienne DiPiazza
Freelance Reporter
Telling the stories of everyday people - their hardships, their successes, their passions and challenges is what makes this job so great. 
People like to ask, what's the most exciting story I've ever covered? But often it's not the 'most exciting' stories that make an impact on the community, it's the stories of people who are trying to solve problems and also do some good along the way! 
I was born in D.C. and grew up in Silver Spring, MD. After graduating with a degree in Broadcast Journalism from Penn State University (We Are!) I landed my first reporting job at WABI-TV5 in Bangor, ME. In Maine, I pitched stories, shot my video, wrote, edited and reported. On weekends, I produced and anchored the evening newscasts. From there, I worked at WGHP in Greensboro, NC and WJW in Cleveland, OH before coming home to the DMV. 
In my spare time I love cooking with my husband and 2-year-old son, reading, spending time outdoors, traveling, and checking out the latest restaurants. 
Please feel free to send story ideas to Adrienne.DiPiazza@fox.com or say hello if you see me out and about!
The latest from Adrienne DiPiazza
The executive chef at Kitchen Savages says his business is staying true to its mission of hiring local, serving great food, and giving hope.
The Arlington County Council of PTAs decided parents needed more than a meeting to address the continuing drug crisis families are facing in the Commonwealth. 
These archaic D.C. laws are still on the books
D.C. Mayor Muriel Bowser held her second neighborhood safety walk of the week Wednesday, this time in the Ward 4 neighborhood of Petworth.
Councilmember Matt Frumin requested that the D.C. Department of Transportation allow parking during rush hour to slow down drivers on Connecticut Avenue.
During a single night this week, 18 cars outside a Prince George's County senior living community were vandalized or broken into. 
The added benefits to SNAP began during the COVID-19 pandemic and helped over 41 million Americans over the last three years by providing participating households with an additional $95 a month to spend on food.
Ward 1 residents turned out Monday night to speak one-on-one with their council member, Brianne Nadeau, about the rampant crime.
The Fairfax County Police Department is investigating a double homicide in a Herndon home Friday morning.