Bodycam video shows frightening moments before officer-involved shooting in Alexandria
FAIRFAX COUNTY, Va. - Body camera and surveillance videos from an alleged assault and abduction of a Fairfax County police officer were released Thursday, revealing a violent scuffle that led to an officer fatally shooting a man.
During a press conference at Fairfax County Police headquarters, Chief Kevin Davis called the encounter a "traumatic incident."
The surveillance video from the Richmond Highway Citgo gas station shows an officer being assaulted and taken hostage inside his own police cruiser.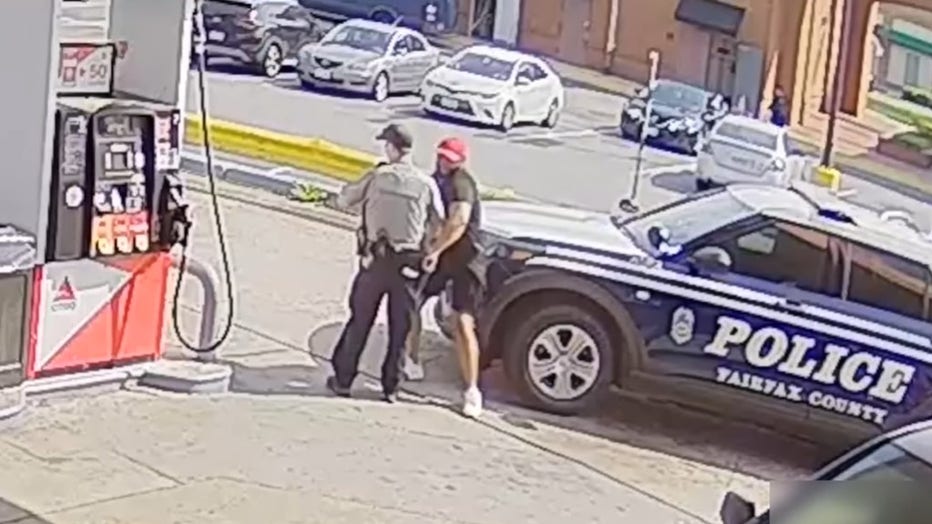 Credit: Fairfax County Police/YouTube
"The perpetrator attempted to viciously and violently disarm our uniformed Fairfax County police officer… I think you saw that as well," Chief Davis said. 

The chief also said that the footage from the May 11 attack, in addition to the kidnapping and attempted disarming of a police officer, led to two officers firing their guns at 38-year-old Brandon Lamagne.
 The deadly altercation happened in the 6300 block of Richmond Highway in broad daylight. Lamagne, police said, rented the U-Haul under fraudulent identification and never returned it. 
Credit: Fairfax County Police/YouTube
The day of the shooting, Lamagne was stopped for driving the U-Haul truck out of Richmond after an officer was alerted that a stolen vehicle passed a license plate reader.
As a result of the incident, a 24-year veteran and an 8-year veteran of the force are on restricted duty. The police department says that training is going to be reviewed and changes could be implemented, including enhancements, equipment upgrades, improved police vehicles, and more.
Watch police bodycam footage and the Citgo gas station surveillance video here.